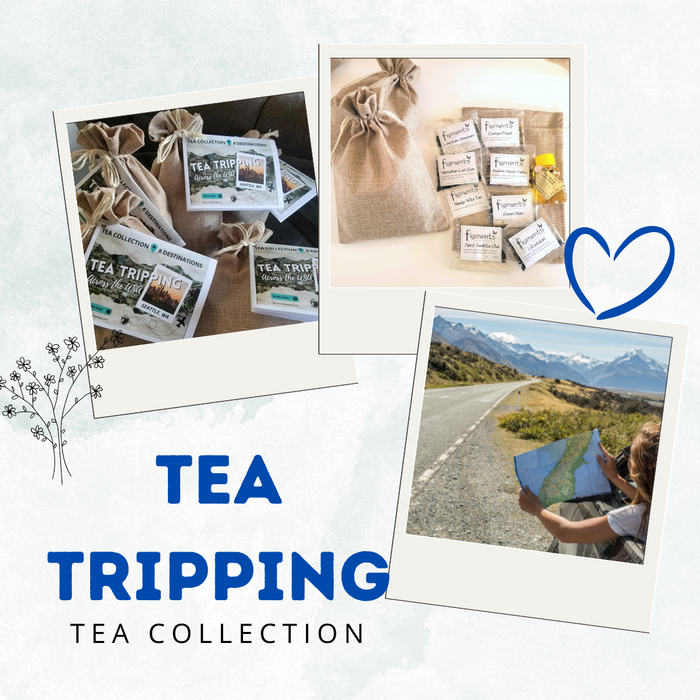 USA Tea Tripping Sampler
Skip hours in the car and travel through your tea cup instead! This sampler includes 8 amazing tea samples that correspond with 7 states, as well as a honey bear to sweeten your adventure! 
Ingredients

Long Island Strawberry
Ingredients: green tea, papaya pieces, strawberry pieces, and natural flavors

Manhattan Earl Grey
Ingredients: black tea, natural flavor, marigold petals, and mallow blossoms

Georgia Peach
Ingredients: blackberry leaves, calendula petals, rooibos, and natural flavors

Bourbon Street Vanilla
Ingredients: rooibos, almond pieces, calendula petals, and natural flavors

Navajo Wild Tea
Ingredients: roasted Navajo wild tea

Queen Mary
Ingredients: black tea

Spicy Seattle Chai
Ingredients: black tea, cardamom, cinnamon, tellicherry peppercorns, ginger, and cloves

Lili'uokalani
Ingredients: Chinese black tea, orange blossom, safflower petals, and tropical fruit flavor

NM Honey - 2oz Tiny Bear
Other Notables

Our tea trip begins on the East Coast up in Long Island, New York. Our Long Island Strawberry is a refreshing green tea that pays homage to the history of strawberry farming and wild foraging that dates back to the 1850's and even earlier according to archaeologists! Spend a day at the Strawberry Festival or go out and pick your own strawberries.

Before we leave New York, we've got to stop in Manhattan and take in the city skyline! In the heart of the Big Apple, Manhattan boasts the Empire State Building, iconic Times Square, and the theaters of Broadway. Our Manhattan Earl Grey is a smooth and impressive take on the classic with a twist of lemon for an unforgettable finish.

We've gone South and landed in Georgia! Since 1885, the Pearson family has been growing peaches and pecans on the same land. Our Georgia Peach rooibos blend captures some of that juicy, summer peach flavor.

We head West and now find ourselves in Louisiana! We're headed to Bourbon Street in the heart of the French Quarter in New Orleans. While Mardi Gras celebrations are a huge draw, the party doesn't stop anytime of year. Find jazz and blues music in the air, great shopping, and delicious Cajun food. Our Bourbon Street Vanilla rooibos captures the magic of this district in a hypnotizing aroma.

We keep heading West till we end up in the home state of our business! For hundreds of years the indigenous people of this region have harvested and used Cota as a medicinal plant. We sell Navajo Wild Tea and Ephedra Tea gathered and put into hand-sewn tea bags by a local, indigenous business owner. We also highly recommend adding a bit of local honey - all of ours come from Hays Honey And Apple Farm located in Bosque Farms NM.

Our adventure continues as we head further West to California! The RMS Queen Mary is docked in Long Beach and is available for touring, overnight stays, and events. Our Queen Mary breakfast blend is lovingly named after the tea they would serve to passengers aboard the ship when it was sailing on the North Atlantic Ocean from 1936 to 1967 for the Cunard-White Star Line.

We change our course and head North to Washington state. With two major stops in the city of Seattle. First is the historic Pike Place Market which opened on August 17, 1907, and is one of the oldest continuously operated public farmers' markets in the United States. Our Market Spice is a blend of tea that was created and sold right in Pike Place Market!

As you wander around Seattle and check out attractions like the Space Needle or Chihuly Garden and Glass Museum sip on our Spicy Seattle Chai and take in the sights. This chai is our spiciest blend and pairs great with milk and demerara sugar.

Bonus! While Hawaii isn't accessible by car for a USA road trip, it is accessible by tea cup! Lili'uokalani was the only queen regnant and the last sovereign monarch of the Hawaiian Kingdom. Our commemorative tropical blend pays homage to her short reign but lasting historical impact. Check out the 'Iolani Palace which is a National Historic Landmark and was the royal residence of the rulers of the Kingdom of Hawaii beginning with the Kamehameha Dynasty in 1845 and ending with Queen Liliʻuokalani in 1893.
Sale
Sale
Original price
$15.00
-
Original price
$15.00