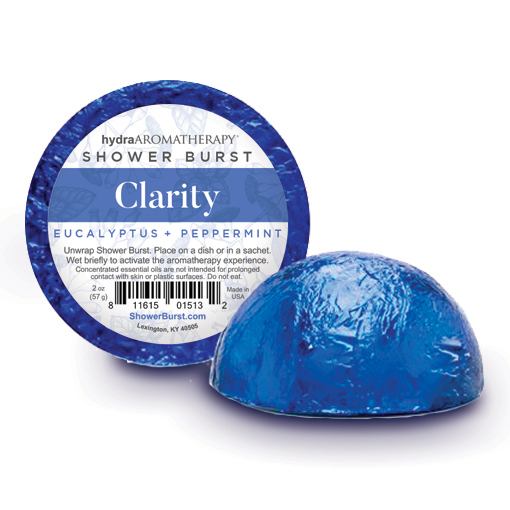 Clarity Shower Burst - hydraAromatherapy
Shower Burst® aromatherapy tablet transforms every shower into a luxurious at-home spa. Clarify and cleanse mind, body, and spirit with a blend of Eucalyptus and Peppermint essential oils in Clarity. Herbal and slightly camphoraceous Eucalyptus provides an eye-opening jounce to awaken the mind. The addition of Peppermint provides minty aroma to clear the mind while through deep breathing. Take a moment to be present with Clarity.
To use the Shower Burst: Unwrap it from the foil, lightly wet it and place it in a sachet (not included) or on a dish out of the stream of water.
After getting it damp, Shower Burst will activate with the humidity in your shower and dry afterwards. The next time you get in the shower you can re-wet the tablet to activate it again for multiple uses.
You will want to purchase the Sachet to go with this product.  (not included)
Sale
Sale
Original price
$7.00
-
Original price
$7.00