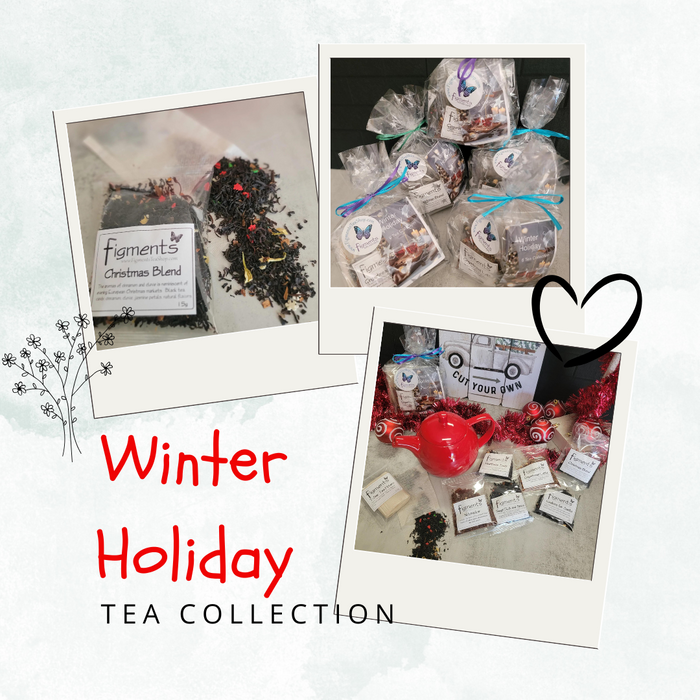 Winter Holiday Tea Collection
Teas in this collection include:
Christmas Blend (Black Tea): The fragrance of cinnamon and clove evoke memories of the festive winter markets of Europe. Featuring black tea, sweet treats, cinnamon, clove, jasmine petals, and natural flavoring.
Cookies for Santa (Black Tea): You could put milk & cookies out for Santa...or just treat yourself to some delectable tea! This cozy blend mixes black tea, raisins, and soothing spices.
Gingerbread Latte (Rooibos): This exquisite blend of spices promises a delectable hot cup on a frigid winter day! Caffeine-Free, it is composed of Rooibos tea, gingerbread flavor, and ginger pieces.
Hearthside Toddy (Black Tea): Warm your bones by the fire with a steaming cup of tea! Our blend of black tea, vanilla ginger bits, spice, and flavoring will make you feel cozy and content.
NaughTea & Spice (Black Tea): Santa evidently adores this tea blend, which includes premium black tea, lemon peel, cloves, cinnamon bits, chocolate bits, red/pink peppercorns, and flavoring. Additionally, the flavor includes the delightful combination of chocolate and cinnamon. Soy is also an ingredient.
Nutcracker (Rooibos): Holiday marzipan that's bursting with sweetness - thanks to ingredients like rooibos, papaya, almond, and candy pieces.

 20 T-Sacs to brew the tea
Sale
Sale
Original price
$27.00
-
Original price
$27.00